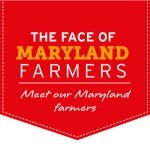 (BALTIMORE) — Before the beer, there's the barley. Before the burgers, there's the beef. Before the fries and the ink for the tickets, there are soybeans.
Who knew Maryland's farms had so much in common with the Ravens Nation?
Maryland farmers are game-day MVPs (and not just because they bring great food to the tailgate)!
Here are ten ways the Ravens and Maryland's farmers are a dream team on and off the field:
Soybeans are one of Maryland's biggest crops and provide backing for artificial turf, ink for game tickets and oil to crisp up your fries.
Corn is another major crop that shows up around the Ravens' stadium. It's at the concession stand to make popcorn, it coats paper plates, and it's an ingredient in deodorants and shampoos used in the locker room.
In both football and farming, open fields matter. While a football field is 120 yards long or 1.32 acres, the average farm size in Maryland is 165 acres.
Quarterback Joe Flacco makes a tidy $24 million a year, but Maryland's poultry farms have him beat: In 2016, the poultry industry supported $3.96 billion in economic activity. That's a lot of Old Bay chicken tender bites!
Both the Ravens and Maryland farmers are economic powerhouses, delivering jobs, sales revenue and a strong tax base. Maryland agriculture is a $13 billion industry.
Stadium groundskeepers use the same principles of integrated pest management and nutrient management that Maryland farmers follow to keep the turf – and our crops – healthy.
As a Gold LEED-certified building, the stadium is environmentally friendly — just like Maryland farmers who have a winning record of conserving resources and treasuring the Chesapeake Bay.
The Ravens welcome fans to their house, the M&T Stadium. Farmers open their houses to fans, too.
At least one of the Baltimore Ravens team is a budding farmer: Rookie fullback Ricky Ortiz is part owner of a 150-acre avocado ranch in Mexico.
Both the Ravens and Maryland's farmers are outstanding in their fields.
Now you know who the real hometown farm team is — the thousands of farmers who help make our state great.
Next time you throw a burger on the grill for a Ravens' game, know that Maryland farmers are rooting for the purple and black right beside you!
Hungry for more? Sign up for our (email/blog) and find us on Facebook, Twitter and Instagram.