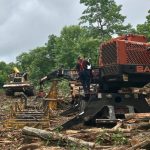 McHENRY, Md. — When Sisler Construction & Logging received news in May that its largest customer, the 131-year-old Verso paper plant in nearby Luke, was closing, the Sislers made several uncomfortable decisions.
Drew Sisler, 30, immediately backed out of the purchase of a $142,000 road tractor, losing almost $4,000 as a penalty.
His father, Jerry Sisler, canceled the purchase of a new $350,000 log skidder. Their equipment dealers, also grappling with the news, told them it was the third truck and fifth skidder sale they'd lost that week.
Then the Sislers laid off three workers from their 11-member crew and had to find a new market for the year and a half of timber rights they'd recently purchased. In an instant, Jerry Sisler said, their company lost nearly a third of its business.
"We're scrambling to find other markets," he said, sitting inside a private room at Pine Lodge Steakhouse in McHenry on Aug. 13. "It was a big shock."
It was a common problem for many in the room. The Sislers had just finished dinner with the Mountain Loggers Cooperative Association, a regional group of logging and forestry workers that meets monthly over steaks and sandwiches at the restaurant on Deep Creek Lake.
At its August meeting, association members said the plant's closure has rattled the region's logging industry, which stretches from the Virginias to Maryland and western Pennsylvania. Some have sold off equipment and shut down while others have found new, albeit more distant, outlets for their wood.
"These loggers are suffering tremendously," said Bill Robinson, an association member from Tucker County, W.Va.
THE PLANT CLOSES
Verso Corp. announced the Allegany County mill's closure in early May, citing a shrinking paper market, import competition and the cost of new environmental regulations. The plant was an economic driver in the region for more than a century, producing nearly half a million tons of glossy paper for magazines and other products each year.
Verso, based in Ohio, was one of the region's largest buyers of pulpwood, which is produced from small, low-quality timber harvested to make room for trees ideal for lumber production. The mill's tentacles had a broad reach. Forestry projects in Southern Maryland, for example, were immediately suspended when the plant shuttered.
Its closure had a predictable effect on loggers, whose industry is not unlike the broader agricultural sector. It's a high-cost, equipment-heavy business that operates on increasingly tight margins.
Diversification has become essential, said Danny Sines, association president. In addition to pulpwood, Sines's Friendsville, Md., company sells scragg — low-grade logs — and sawlogs, which are suitable for lumber, and other products.
When the plant closed, it put about 20 percent of Sines's business at risk, he said, though he was relatively lucky. Demand for pulpwood was so high at Verso that many loggers built their entire operation around its need.
"There's a lot of people where it was probably 80 or 90 percent," Sines said.
LOGGERS ADAPT
Since the Luke plant closed, loggers have scrambled to new markets, many of which are much farther away. The Sislers, two of the region's largest pulpwood producers, sent about 50 25-ton truckloads to Verso each week. Those trips averaged about 50 miles, Jerry Sisler said. Now, they're forced to ship about 170 miles to a mill in Parkersburg, W.Va., owned by Pixelle Specialty Solutions, a Pennsylvania paper company.
Truckers charged them $250 to take a load to Verso. Now, they're charging $700.
"The truckers are making more than what we're getting," Jerry Sisler said.
The Sislers have $2 million invested in equipment and another $400,000 in timber they've yet to harvest. They said they were motivated to invest by increased demand from Verso last year. Wet weather slowed the logging process, forcing the plant to raise its pulpwood price from about $36 per ton to about $55, Jerry Sisler said.
Verso "foresters would come out and say, 'You need to produce more, you need to produce more,' right until the day they decided to close," he said.
Sines, a third-generation logger, has moved much of his wood to the Pixelle mill in Parkersburg and a Weyerhaeuser facility in Flatwoods, W.Va. Both are roughly double the distance from Friendsville to Luke, a change that's significantly reduced the amount of business he can do in a day.
"We had an hour to Luke from certain jobs," he said. "Now we're taking two and a half hours, in some cases three hours. Instead of our trucks making two or three loads to Luke, they're making one load out there."
To make up the difference, he may have to add trucks and employees, he said. To accommodate that, he'll need to produce more.
Butch Glotfelty, an Oakland, Md., logger said his business took a 40-percent hit. He laid off two employees, though the debt of an expensive tree cutter he bought recently looms. Like the Sislers, he also has money tied up in timber rights.
When the Luke mill closed, many loggers in Maryland, the Virginias and Pennsylvania lost up to $15,000 in weekly revenue, Robinson said. There are other buyers, but Verso's closure has made the regional timber market less competitive and lucrative.
"If you lose that much, how do you make that up?" he said.
A WAY BACK?
Several loggers rumored to have shut down or considering closure did not return calls from The Delmarva Farmer. Logger Tim Thomas said he painted a dark picture at a recent meeting with state officials in Annapolis.
"I told them, 'I have friends who bought new equipment who are going to lose their homes,'" he said. "'I know people who are setting their equipment on fire for the insurance money.' I said it's as bleak as it can get."
Thomas spent much of the meeting detailing a new company he's started that could recover for loggers some of that lost market. With the help of unnamed private investors, he said he's launching an ambitious chip yard and pulpwood complex that would ship to the Port of Baltimore for export.
"We're trying to get something going so we can try and get logging back to the way it used to be 25, 30 years ago," he told the group.
Thomas also said he would like to start a wood-burning energy plant that would buy from regional loggers. State officials, including Gov. Larry Hogan, are enthusiastic about both projects, he told the association.
"I've met the governor three times this month. We're getting to be on a first-name basis," Thomas said. "Larry Hogan is very adamant about making this a go. If you guys want to draft a letter, give it to me, and I'll make sure he physically reads it."
A spokesperson at Hogan's office did not return a request for comment. A commerce department spokesperson said her office would like to know more about the projects.
Dan Rider, stewardship manager for the Maryland Forest Service, said he'd spoken with Thomas about the pulpwood complex.
"If it comes about, it should be a good thing," he said. "Frankly, I have a lot of questions, but none of the questions I have are my right to ask."
Loggers at the meeting also had questions but said they were enthusiastic about Thomas's plans.
"I hope it's true," Sines said. "I'm a little skeptical. We've been after a (biomass plant) here for years."
"It sounds great," said Rusty Leonard, the association's secretary and a forester at Northwest Hardwoods.
At the meeting, Thomas said he planned to open the pulpwood complex within 45 days. On Sept. 19, 35 days later, the project was "still proceeding," he said in an e-mail.
"We are very excited to bring new jobs and economic growth to this region," Thomas said. "The one thing that we truly look forward to is putting people back to work."
Meanwhile, the Western Maryland Resource Conservation and Development Council in Hagerstown has applied for a $150,000 federal grant to develop a long-term economic strategy for the state's forest products industry. Several state agencies, including the agriculture department, have pledged matching donations.
The forest products industry isn't only struggling in western Maryland. Loggers and foresters across the state, particularly on the Eastern Shore, have lamented for years a decades-long industry decline. Several sawmills on the Shore have closed over the last 20 years, and the state is in the process of eliminating an old wood-burning power plant at Eastern Correctional Institution in Somerset County. Natural gas will power the prison.
Forestry leaders, who said the prison is a critical buyer of wood chips from Shore loggers, asked Hogan's office in February to build a replacement plant elsewhere. They're still waiting for an answer, said Beth Hill, executive director of the Maryland Forests Association, which represents foresters, landowners and loggers.
"That fight continues," she said. "It would be nice to get a response."
Foresters, such as Rider, said they fear the long-term consequences of Verso's absence on forestry work. Foresters often hire loggers to remove pulpwood to encourage growth and to manage forest biodiversity. Healthy forests, which filter rainfall, sediments and other pollution, are also a critical part of the state's commitment to water quality and the health of the Chesapeake Bay.
"It's been terrible," Rider said. "It's become very difficult to practice good forestry on the ground because the loggers don't have a market for the pulpwood."
The mill's closure also disincentivizes many loggers to remove pulpwood.
"It's going to affect landowners pretty drastically," Leonard said. "If you can't get a market for undesirable wood — real crooked stuff or rotten stuff — we're going to have to let it stand because we can't just cut it down and let it lay because it just costs money to do that."
LOOKING FORWARD
Loggers are particularly vulnerable now, said Joe Phaneuf, executive director of the Northeastern Loggers' Association in New York. The erosion of the paper industry has put intense pressure on markets for low-grade wood, and high-grade wood prices have suffered due to President Trump's trade war with China, he said.
That kind of economic stress can inflict long-term damage to regional logging and forestry communities, he said. The industry has high entry costs, and most loggers who leave don't return.
"It's a big problem, and it's not just happening in western Maryland. It's happening in other markets as well," he said.
The average age of the American logger is also an issue, said Jeff Powell, a Smithsburg, Md., logger.
"Most everybody is over 50 anymore that does this type of work," he said.
Despite losing almost half of his business when Verso left, Glotfelty said his reduced four-person crew continues to cut timber. In addition to the Parkersburg mill, he's found several other buyers, including a Kingsford Charcoal plant in Parsons, W.Va.
But Verso's absence has resulted in a less competitive market, and pulpwood prices have fallen by more than half from about $42 per ton on the day Verso closed to about $20, Glotfelty said. He hopes the region's timber market improves soon.
"It ain't hardly worth it, but at least I'm keeping my men working," he said.
(Reprinted with permission. www.americanfarm.com)
Hungry for more? Sign up for our newsletter and find us on Facebook, Twitter and Instagram.