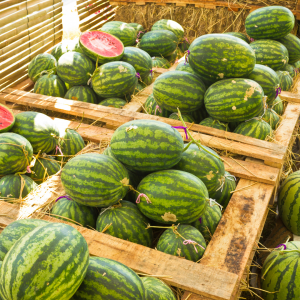 As Joe-Sam Swann stands over his field of watermelon, he's looking at his family farm that dates back to the 1850s. A sixth-generation farmer, he worked alongside his father Allen and cousin Jody on their Owings, Maryland, land.
"The farm began its journey as a tobacco farm," Joe-Sam says. "The beautiful, historic tobacco barns can still be found intact and repurposed throughout the property." Swann Farms, which was once strictly a wholesale operation, has since transitioned into a hybrid wholesale and onsite farm stand with watermelons at center stage during the late summer.
Joe-Sam grows watermelon in raised "plasticulture" plant beds, which refers to the use of lightweight plastic or mulch to cover the seed bed in order to control the soil temperature, retain moisture and retard weeds. On this over 150-acre farm, about 10 acres are used for growing watermelons for the wholesale market and one acre for farm retail. In the state of Maryland, there are over 3,700 acres dedicated to growing watermelon.
"Watermelons have always been a popular summer fruit in this area. Our customer's preference has changed from large-seeded watermelon to a smaller, seedless variety," he says. "It grows well in our farm's sandy well-drained soil." Along with watermelon, he also grows sweet corn, peaches, an assortment of berries, cantaloupe, tomatoes, squash, cucumbers, peppers and zucchini. Many of the berries are available on the farm's U-pick patches.
Buying local produce supports local farms and families in the community. "Supporting small farms helps preserve our open spaces and our area's rural character," Joe-Sam says. "By buying from local farms you increase the quality and freshness of the produce you're eating." He also notes that high-quality local produce is available at a fraction of the cost of supermarkets.
How do you select the right watermelon? Here are some tips from the Mar Del Watermelon Association. 
Look the watermelon over. You're looking for a firm, symmetrical watermelon that is free from bruises, cuts or dents. 
Lift it up. The watermelon should be heavy for its size. Since watermelon is 92% water, most of the weight is water. 
Turn it over. The underside of the watermelon should have a creamy yellow spot from where it sat on the ground and ripened in the sun. 
Now, it's time to cut up your watermelon, kick back and enjoy a sweet slice of local Maryland produce.
Hungry for more? Sign up for our newsletter and find us on Facebook, Twitter and Instagram.