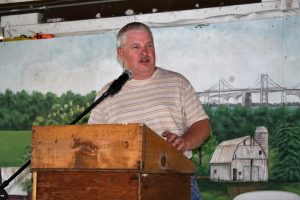 (CENTREVILLE, MARYLAND) – July 27, 2017 – Travis Hutchison takes a deep breath, glances at his notes one more time, and steps up to the podium. Before him, 300 faces are looking expectantly back, fanning themselves with the day's program against the 85-degree heat.
"Thank you," he says to Jennifer Schmidt, the president of the Maryland Grain Producers Utilization Board, who is emceeing the event. What follows is a quick year-in-review for the Maryland Soybean Board, a nonprofit commodity board that Travis chairs.
It's all part of a daylong event that encompasses reports from University of Maryland researchers on field crop work they've done; exhibits from other groups and ag supply companies; inspirational speakers; and — at the end — networking and fellowship over crabs and barbecue.
Meetings like these are part and parcel of being a farmer. Besides volunteering on commodity boards, where farmers support crop research, marketing and education, farmers like Travis are often called upon to testify in Annapolis, host open houses on their farms or attend conferences. Many farmers also volunteer at their churches, local community service organizations such as Rotary, and youth sports teams.
In addition, most farmers need to attend classes throughout the year to achieve and maintain certifications they need to do their jobs. In order to purchase agricultural fertilizers and crop protection chemicals, farmers need to pass a pesticide applicator's test. And most farms in Maryland are required to file an updated nutrient management plan each year, which balances crop fertilization needs with the expected harvest. In order to write a nutrient management plan, farmers must earn and keep their certification.
"Some weeks it feels like I spend the whole week off the farm," Travis says. "But maintaining the certifications is important, and so is giving back through volunteering."
That's a family value his multi-generational farm family holds dear. Travis' father, cousin and uncle have all held leadership positions in Maryland agriculture. In fact, his father Bobby recently received the Master Farmer Award from American Agriculturist magazine thanks to his dedication to the industry, his farm and his community. Travis' wife Tresa is very active with their children in 4-H. Though their farm is a large one, the attention and effort they put toward their industry is personal and sincere.
On this day, while Travis finishes his speech and the crowd's attention begins to turn toward the smell of steamed crabs, the crops at home are enjoying a break from the recent heat wave. Corn has tasseled and pollinated, and soybeans have flowered and set pods. A recent set of rain showers is helping the ears and pods fill, and the irrigation systems are given a rest. It's a good day for him and his family to be off the farm.
"In agriculture I know I'm part of something that is bigger than me," Travis says. "I'm part of my family's history, part of Maryland history. I'm feeding people here and across the planet. What I do on my farm helps protect and preserve our natural resources. I create jobs. It's an awesome place to be, so I want to give back."
Hungry for more? Sign up for our (email/blog) and find us on Facebook, Twitter and Instagram.