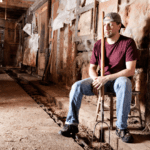 Farming has been referred to as the "most noble employment of man." So you may be surprised to learn that farmers are 30% more likely to die by suicide than any other profession. A few years ago, Danielle Farace, executive director of the Maryland Soybean Board, was approached by a local farmer who brought her attention to the epidemic affecting the farming community.
"Farmers have so many worries on a daily basis — caring for their crops and animals, weather, prices, regulations, and the list goes on — that in many cases, their personal health comes last on the list, " Danielle says. "It is heart breaking that a career that brings such bounty can also cause the loss of life."
According to the Center for Disease Control and Prevention, farmers have one of the highest rates of suicide of any job in the U.S. This can likely be attributed to the pressures of generational farming, variability in the farm economy and weather, regulatory hurdles, the negative stigma surrounding mental health, and lack of access to health care in rural areas, just to name a few.
Recognizing the need in Maryland's agricultural community, Danielle decided to act and worked with University of Maryland Extension to coordinate mental health training workshops throughout the state for those working with farmers on a daily basis, including agricultural service providers, industry representatives and fellow farmers.
Her world was turned upside down when that very fall, she lost her younger sister to suicide. "She was a senior at Oklahoma State University with many accomplishments already under her belt and the world at her feet," Danielle says. "To this day, I will never understand why she did what she did, but can only chalk it up to her fear of letting anyone know that she was anything short of perfect."
The workshops were held the following spring and, through them, Danielle and the team were overwhelmed by the number of people who reached out and said that they or someone they know has struggled at some point in time.
"These workshops addressed the negative perceptions that have traditionally surrounded mental illness and identified opportunities for help when it is needed," Danielle adds. "Farmers are not always the most talkative group of people and getting them to talk about the way they are feeling can be a real challenge."
Following the workshops, University of Maryland Extension has continued to build on their outreach methods surrounding farm stress management, including the creation of resources for farmers. Most recently, they announced a partnership with the Maryland Department of Agriculture for a new statewide Farm Stress Assistance program designed to provide physical and mental health resources to rural communities.
"Our nation's farmers are truly the backbone of America, and we must take the necessary steps to improve their standard of living," says Craig Beyrouty, dean and director of UMD's College of Agriculture and Natural Resources. "Collectively, we need to protect the vitality of our farms so farmers can continue to utilize research to produce and operate at the highest levels."
You may be thinking, "What can I do to help?" Here are some suggestions:
Buy local. Purchasing food products directly from farmers helps them to carry on their family traditions and supports their homegrown business.
Meet your farmers. Get to know local farmers like the ones featured in My Maryland Farmers and the issues that they face. Visiting your local farmer's market or joining your county farm bureau is a great place to start.
Advocate for mental health resources in your local community. Mental health resources are few and far between in rural areas. Those who are willing to step up and ask for help often have to drive upward of an hour each way to find quality, affordable resources. Telehealth could be an option in the future, but currently many of those living in rural areas lack access to reliable cell phone and internet connections.
Keep the conversation going about mental health. Traditionally, there has been a negative stigma surrounding mental health. The more we talk about it and let those know that they aren't the only ones struggling, the more likely they will be willing to ask for help.
If you or someone you know needs immediate help, call 911. To speak with a 24/7 crisis hotline, call 1-800-273-8255 (National Suicide Prevention Lifeline).
Sign up for our newsletter and find us on Facebook, Twitter and Instagram.