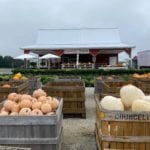 It was almost 40 years ago when Chip Councell, a 10th generation farmer, and his wife Jo Ann started selling their produce from the back of a wagon in Talbot County. Today, that simple venture has grown into Councell Farms, an agritourism destination with a produce market and fall festivities where families create memories year after year.
"My parents established the farm, then called Rainbow Farms, soon after they were married in 1981," Melissa Councell Dodd says. "Years later, the name of the produce market was changed to Councell Farms to better reflect the family-operated business. This year, we have transitioned the daily operations to the next generation to sustain our family tradition."
That next generation includes Melissa and husband Jason Dodd along with Melissa's brother, Jason Councell and wife Casey. "Casey and I run the daily operations, my brother Jason grows the pumpkins, and my husband Jason handles the maintenance of the market and agritourism," Melissa says.
Councell Farms offers numerous farm-grown varieties of pumpkins, gourds and fall squash along with other locally sourced fall favorites, like apples, apple cider, and jams and jellies. To further attract visitors, the farm has expanded into an agritourism destination featuring a Field of Fun, with over 20 farm-related activities from a corn maze to a jumping pillow to a pick your own pumpkin patch.
Yet, this farming family knows that crops are not always guaranteed. "Unfortunately, due to the excessive rain this year, we couldn't open our pick your own pumpkin patch," Casey Councell says. "We were disappointed, but we maintain a positive outlook for the 2020 season." On that bright side, the numerous pumpkin varieties grown at the family's home farm have done well and are sold at the farmer's market.
Facing obstacles head on, Melissa and Casey see these as an opportunity to think outside the box. "Due to the pandemic, this year has been challenging," Melissa says. "We have transitioned to accepting online orders and have used social media to share exciting things happening on the farm." 
Melissa and Casey agree that Councell Farms has something for people of all ages. "We have visitors from families looking for a fun day outdoors, young couples looking for a day date that ends with ice cream, moms bringing their kids after school and, of course, our loyal customers who have been stopping to see us for the last 30 plus years," Casey says.
Watching her parents' hard work and working alongside them helped in transitioning ownership. "In the upcoming years, we hope to grow our agritourism and focus even more on agri-education," Melissa adds. "During a normal school year, we can educate about 3,000 school children on the importance of Maryland agriculture."
Melissa says that it's important to highlight and educate the public about Maryland agriculture, and there's no one group she knows that loves Maryland more than the farmers of this state. "Our goal has always been to leave the land better for the next generation," she says. "We are fortunate to get to be part of the next generation of Councell Farms."
5 Tips for Pumpkin Care and Carving:
Never carry a pumpkin by its stem – it could easily break (a pumpkin with a broken or missing stem won't last as long). Instead, carry it from the bottom.
For carving, cut out the bottom — not the top — of the pumpkin. This will help prevent the sides from caving in.
Keep your pumpkin fresher by spreading petroleum jelly on the cut edges to seal in the moisture.
Whenever possible, carve your pumpkin on the same day you plan to display it.
Sprinkle a little cinnamon inside the jack-o'-lantern for a fresh pumpkin pie smell.
Hungry for more? Sign up for our newsletter and find us on Facebook, Twitter and Instagram.