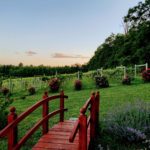 While the weather may be chilly, wineries across Maryland offer a cozy retreat — heated igloos. These igloos started popping up a few years ago in response to the pandemic and the necessity to provide outdoor seating and a smaller social bubble. Red Heifer Winery in Smithsburg was ahead of the trend.
"In 2012, we opened our adults-only winery, and a few years later, expanded our business to include a spacious patio with plenty of outdoor seating," says Yvonne Ford, who owns Red Heifer Winery with her husband, Kevin, who is also the winemaker. "A year later, we needed a way to extend use of our patio into the winter months and, after some research, found the igloos."
The couple has owned the winery's property over 15 years. Yet, the farming history of Kevin's family on that land starts well before that. "Our farm property was purchased in 1942 by Clyde Naylor, my maternal great grandfather. He infamously offered to buy the farm for the seller's full asking price if he would 'throw in that red heifer,' " Kevin says. "My grandparents, Sam and Edna Naylor, moved in in 1945, raised four daughters on the farm and operated Naylor's Orchard selling peaches and other produce along the main road that connects Smithsburg to Cascade."
Through the decades the Naylors also owned a campground and raised and sold Christmas trees, grew potatoes, green beans and turnips, and milked dairy cows. "While we no longer have the variety of offerings Sam and Edna had, we grow wine grapes and cut flowers," Yvonne says. "Guests no longer visit to camp overnight, but instead sip wine while enjoying the serene mountain views. They can sit on the patio or have a private experience in one of the winter igloos."
The sprawling winery, which is part of the Antietam Highlands Wine Trail, has three acres currently used to grow grapes with another 12 acres of new vines the couple is researching. Along with a grape grower partner in Smithsburg, Chardonnay, Chardonel, Blaufrankish, Cabernet Franc, Chambourcin, Petit Verdot and Vidal Blanc grapes are grown. All of Red Heifer Winery's wines are processed, fermented, aged and bottled on-site.
"Smithsburg offers a unique micro-climate that allows us to grow a variety of vinifera and hybrid grape varietals," Kevin says. "We selected grape varietals based on their ability to grow in a slightly cool climate with the given growing degree days. Customer demand and interest also guide our decision on growing specific types of varietals."
Although the majority of the winery's guests rave about their igloo experience, it's the Maryland wines that keep them coming back.
Hungry for more? Read about another Maryland winery. Learn more about locally grown grapes.
Sign up for our newsletter and find us on Facebook, Twitter and Instagram.