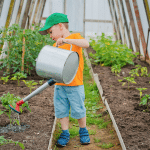 (ANNAPOLIS, MARYLAND) – It's June. School's out. They're roaming the house, looking for food, already complaining that they're bored.
Houston, we've got a problem.
Fortunately, we've got answers. Maryland has about 12,000 farm families. And while farm kids usually have plenty of chores, farm parents feel your pain. The great thing about Maryland farming — besides the food it provides — is the opportunity for your kids to learn about science, math and more in a fun and interesting setting. Here are a few ideas for summer fun:
How'd it go? Let us know which solutions you tried in the comment section below!
Hungry for more? Sign up for our newsletter and find us on Facebook, Twitter and Instagram.