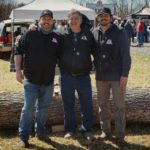 At Braglio Farms in Randallstown, raising livestock occupies most of Roman Braglio's time. But, back in 2017 when things were slow, he had another idea. "I had the ambition to do more with our farm and produce more off of our land," he says. "I learned very quickly how difficult it was to start the firewood business and there would not be much down time in the winter on the farm. I started to split firewood to sell to our friends and neighbors, and grew the company from there."
Established 1962, the farm has evolved from raising thoroughbred horses into what it is today, a thriving cattle, pig and poultry operation in addition to the firewood endeavor. "Our farm has adapted quite a bit since we started out with my great grandfather, Joseph Braglio, and grandfather, Wayne Braglio. They had thoroughbreds and competitively raced them in the D.C., Maryland and Virginia area. My grandfather kept cattle in the field with our horses. It was that way for all of my childhood on the farm — and I fell in love with it," says Roman, who studied Agricultural Economics at University of Maryland and was captain of the Terps football team before returning to the farm. "It's been a great journey and I owe it all to my family."
The firewood business started out small using only one log splitter — the kind you can find at any hardware store. Roman would cut everything to size by chainsaw, then split the chunks into pieces and load the back of his farm truck.
Over the past six years, it's become much more sophisticated. "We have an impressive firewood processor that takes a log up to 20 inches in diameter, cuts it into a 16 inch piece, and then splits it into 12 smaller pieces," Roman says. "We can produce wood safely and efficiently with this piece of equipment." Before each load is delivered to the customer, the firewood is run through a large tumbler. This cleans the wood of any unwanted debris like rocks, dirt or anything that might accumulate in the firewood pile. The firewood is sold to residential customers.
Roman mainly harvests the logs from one of the family's three farms or from storm damage clean up. This includes oak, hickory, maple, ash, locust, poplar and other hardwoods. The heating value of wood depends on its density and moister level. Dry, seasoned firewood, which is at a 20% or less moisture level, has an increased heat output, is easier to light and has less smoke than wood at a higher moisture level. In comparison, fresh cut wood has an average 60% moisture content.
"I heat my home with our seasoned firewood, and there is no better way to have the living room on cold winter nights," Roman says. "The smell, light and sound of a fire are some of my favorite things about burning wood."
Hungry for more? Read how another farmer diversified with ice cream. Watch the Braglio firewood process in action.
Sign up for our newsletter and find us on Facebook, Twitter and Instagram.