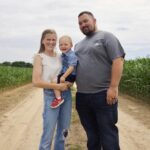 McHenry's Harvest is a family-owned farm that has been a cornerstone of the local community for generations. With a rich history in Kent County since 1925, the farm has seen its fair share of changes. Today, under the stewardship of Joey and Jenell McHenry, the farm has evolved into a multi-faceted operation that combines tradition with modern farming methods.
In 2016, at the age of 18, Joey embarked on a bold venture to diversify the farm. He started a custom harvest business, beginning the farm's transformation from dairy into a multifaceted agricultural enterprise. This decision allowed him to work full-time on the farm.
Encompassing 800 acres, the farm is dedicated to various grains such as corn, soybeans, sorghum, wheat and barley. Additionally, the couple operates McHenry's Beef and provides custom services for other farms, like spreading chicken litter, planting grain, hay work and harvesting, and operates a small trucking business.
One modern practice the couple uses on their farm is aerial seeding for cover crops. Aerial crop seeding is a farming technique where seeds are dispersed over fields from an aircraft or, sometimes, a drone. This method is often used to quickly and efficiently sow large areas of land. "Each year, we have Chorman Spraying spread cover crop seeds on our corn acres, typically around 200 to 300 acres," Jenell says. "We really like aerial seeding because it is fast, easy and affordable and allows for early planting, establishment and growth."
"We can seed 50 acres in about 30 minutes," says pilot Jeff Chorman, who took over the company in 2010 from his father, Allen. The company has a fleet of aircraft for agricultural spraying, seeding, fertilizing and mosquito control. For cover crops, the farmer provides the seed. "Cover crops have numerous soil health benefits, and applying by air allows for a longer germination time, no soil compaction, and a timely application while your crops are still standing."
Aerial seeding streamlines the seeding process and is especially helpful during busy seasons, like early fall when farmers are preparing for harvest. Plus, it establishes cover crops that have benefits to both the soil and the farmer's bottom line. "Cover crops, in general, provide plant-available nitrogen by planting a mix of crops for the next growing season, builds our organic matter, and saves us money by decreasing our inputs," Jenell adds.
"I believe in the last 10 years there has been an increase in aerial seeding. Farmers have seen a number of benefits," she says. "And the Maryland state cost-share helps with a portion of the costs involved to pay for the aerial work."
With aerial cover crop seeding, Joey and Jenell have taken the family's farming legacy to new heights.
Hungry for more? Read how drones are used for cover crops. Learn more about aerial applications.
Sign up for our newsletter and find us on Facebook, Twitter and Instagram.