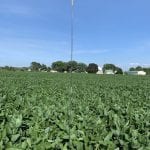 (VIENNA, MARYLAND) – Maryland farmers can't always count on Mother Nature to provide enough rain for their crops. The summer of 2019 was a prime example. Sections of the state got a lot of rain early in the season, but most places didn't get enough rain after July. That's why farmers rely on irrigation systems to provide much needed hydration to quench a farm's thirsty crops.
William Layton of Lazy Day Farms and Layton's Chance Vineyard and Winery uses two different types of irrigation systems on his 1,800-acre farm in Vienna, Md. One for the crops like corn, soybeans and wheat, and another for grapes. This Dorchester County farm, which has been in the family since 1948, diversified its farming operations about a decade ago to join the growing number of wineries in the state. With this came different watering needs.
"Water, more than any other natural resource, is the key to crop success. Managing it responsibly is one of our most important values on the farm," William says.
For the larger acreage fields, William uses irrigation pivots, which he refers to as a "Delmarva carwash." Years ago, it wasn't unusual to drive through a surprise heavy downpour as the pivots worked their way across fields – and sometimes roads. Today, most farmers realize that was unsafe for drivers and wasted water as well as the energy it takes to pump the water, and have adjusted their pivots to water fields only. Still, the name has stuck.
He says that these are the most cost-effective way to cover large areas and are very water efficient. "The major disadvantage is evaporation. When putting water on from the top of an irrigation pivot, you lose some to evaporation in the air. There is also some inconsistency in distribution of the water. If you try to put on three tenths of water, some sections of the field may get two tenths, and some may get four tenths," William adds.
To help better manage these levels, he now uses a cutting-edge soil moisture system. Sensor stations sprinkled around the fields communicate the moisture levels to his computer or smart phone on an hourly schedule. This allows William to regularly monitor and adjust using the data received.
For the grapes, he uses drip irrigation. "Because that is small acreage and high dollar value, having a small, very efficient system is worthwhile," he says.
Irrigation systems can do more than just spread water. They can also be used in a farmer's nutrient management plan to make sure crops will actually be able to grow and use the fertilizer that was applied. Fertigation injects fertilizers, soil amendments, and other water-soluble products into an irrigation system to deliver what the plants need after they're too tall to run a tractor or sprayer through the field.
In addition to the type of irrigation system used, farmers must also be aware of the best management practices. Poor irrigation practices can add stress to rivers and streams, and, potentially, the Chesapeake Bay. Over-watering that can cause erosion and push pollution into our waterways. This excess water can carry with it soil and sediment, fertilizers and pesticides, and manure.
Of course, irrigation systems come at a financial cost. But, by using technological advances such as those William is using on his farm, increasing yields will be worth the investment.

Hungry for more? Sign up for our newsletter and find us on Facebook, Twitter and Instagram.