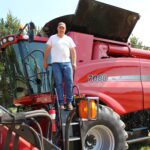 Tennessee may have staked its claim on whiskey, but if this Maryland-based distillery has anything to do with it, that's going to change. During prohibition, distilleries in the region closed and Maryland began to lose its distinctiveness with the rye whiskey made. "In 2013, we were founded with the mission of inspiring a global passion for Maryland-style rye whiskey," says Max Hames, distillery operations manager for Sagamore Spirit. "We want to help bring it back to the spotlight."
Sagamore Spirit is doing just that with a Maryland focus, from its Baltimore City location to using locally grown ingredients. Although the headquarters is urban, they are reaching well beyond the city limits for one of its most distinctive ingredients — rye grain. "At its heart, a distillery is an agricultural business," Max says. "In taking the quality grain produced around us and transforming it into whiskey, we truly are showcasing a piece of Maryland in a bottle. The opportunity to work with local farmers to constantly push for the highest quality ingredients possible is invaluable, and that relationship is an integral part of our future success."
Max says the company primarily works with four farms for it rye — Carroll Mill Farm, Rural Rhythm Farm and Vineyard Farms in Howard County, and Hickory Hollow Farm in Carroll County.
"I was recruited by fellow farmer Chris Weaver of Hickory Hollow Farm, who was working with Sagamore through the University of Maryland," says Ricky Bauer, owner of Rural Rhythm Farm. "I saw this as a way to diversify my grain operation. Since 2018, I've been growing rye grain to be used for production of Sagamore Spirit whiskey."
While all of its whiskies are produced in Maryland, the company doesn't currently have Maryland grain represented in all of them. "We're not able to store the quantity of rye that we need for our yearly production process in Maryland, and so we continue to use an out-of-state supplier. That supply diversification also helps us in years where the growing conditions may not be ideal for a local summer rye harvest," Max explains. "When we use 100% Maryland grain, we set those batches aside to go into barrels that we've also sourced from Maryland, and then we release whiskey that is wholly created from ingredients that we've found in state."
The goal of the farms is to collectively grow 200 acres of rye annually. "I grow in partnership with a few of the other farms, and I oversee the crop management on most of them," Ricky says. "The amount that each farm plants and grows on an annual basis will vary based on our crop rotation schedule, but cumulatively we are able to produce the annual acreage goal." In addition to growing rye, Ricky's farm also grows corn, soybeans and wheat as well as hay, cattle and hogs on 175 acres, plus additional rented acreage.  
"At a time when there is such a large focus on the use of locally grown ingredients and minimizing our carbon footprint, Sagamore has extended this focus to include even the spirits you may drink through the production of Maryland rye whiskey," Ricky adds. "Couple that with Sagamore's desire to support local farms, and it becomes a win-win for all involved: from the farmer who grows the quality ingredients; to Sagamore Spirit who creates a superior product with those ingredients; to the consumer who is able to sip and enjoy the fruits of all that labor and dedication."
Part of the beauty of this whiskey is the opportunity to share a piece of Maryland with friends, family and the world.
Hungry for more? Discover a winery and a brewery that also use local ingredients. Learn about more  distilleries on Maryland's Spirit Trail.
Sign up for our newsletter and find us on Facebook, Twitter and Instagram.