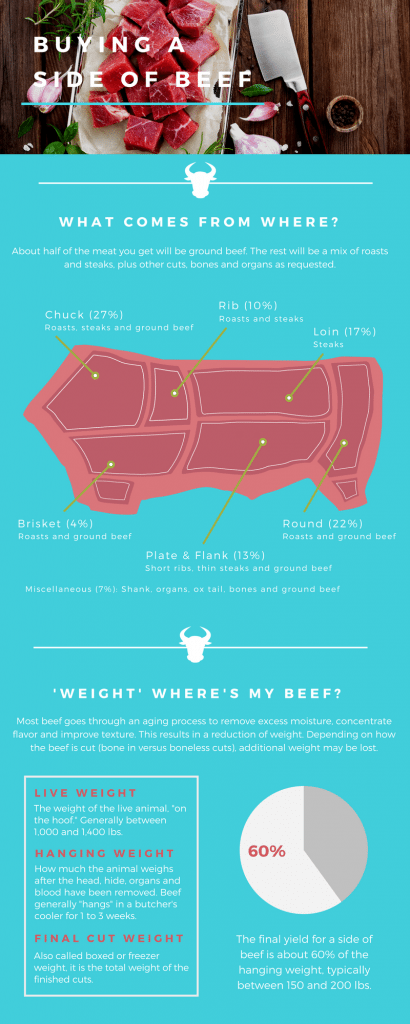 When Benson and Jamie Tiralla started Monnett Farms, their first product was grass-fed beef. They sold it by the quarter or side, which means a customer would buy a portion of the beef and customize the cuts to their preferences. This was a crash course in learning about beef.
"I had no idea where steaks came from," Jamie laughs. "I had to learn a lot, but coming in at that level helped me to better explain things to our customers and help them choose the right products for holiday and everyday meals."
How do farmers sell beef? Jamie says that there are generally two ways. The first way is by "hanging weight," which refers to the weight of the beef after certain parts are removed. The other is by the "final cut weight," which refers to the total weight of all the finished cuts of beef. She said there isn't a cost benefit for one versus the other. "It doesn't really matter how the farmer sells the beef. What matters is that the customer understands what they're buying," she said.
How much meat will you get? Depending on what cuts of beef you select, Jamie said you can expect to get about 150 to 200 pounds of meat from a side of beef. Typically, this will feed a family of four for about a year. An entire side of beef will fit in a medium-size chest freezer at least 7.0 cubic feet or larger. If the beef is properly sealed and continuously frozen, it will maintain its quality for 12 months or more.
A side of beef includes the front and hind quarter. "The chuck is the largest section of the beef. At the grocery store, these are generally the least expensive cuts of beef," Jamie said. "Chuck steaks are often overlooked, but they're very good. The flat iron steak comes from the chuck. And the chuck roast is your iconic pot roast, which is a classic comfort food this time of the year."
Most of the steaks come from either the rib or the loin. Delmonico steak is cut from the rib, while filet mignon, New York strip, Porterhouse and T-bones come from the loin. And, with a side of beef, you can expect to get about 100 pounds of ground beef. But Jamie encourages her customers to try unusual cuts like oxtail or osso buco.
It's more economical to buy beef in bulk, but customers need to have a lot of storage and be willing to bear that cost up-front.
Southern Maryland Meats has an excellent guide that lists farms selling meats in the five southern counties. Maryland's Best also lists farms that are selling beef.
"Buying a side of beef isn't like buying a steak or a pack of ground beef from the grocery store. You really need to work one-on-one with the farmer who can walk you through the process and help you customize the order," she said. "That way, you'll get the perfect cuts of meat for your family, including those for your holiday meals."
Happy Holidays and Happy Eating!
Hungry for more? Sign up for our newsletter and find us on Facebook, Twitter and Instagram.