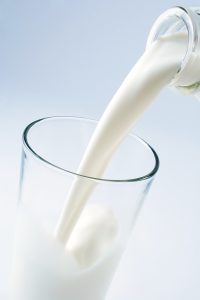 When you grab a gallon of milk from the shelves of your local grocery store, do you ever wonder where it came from? You might be surprised. Billy Bishoff, a dairy farmer in Garrett County, Maryland, sells his milk to United Dairy in Uniontown, Pennsylvania, where it's bottled and distributed to stores. "Almost all of the milk sold to United Dairy comes from farms that are within 100 miles of the bottling plant," he says. "It's pretty typical for companies to buy milk, bottle it and distribute it on a relatively local basis."
To find out where your delicious moo juice came from, check out the code that is stamped on the container. It's usually near the expiration date. It will start with two digits, and then after the hyphen may have two to five more digits, like this: 24-019. Then, go to Where is My Milk From? and type in your code. You'll immediately find out. You can do the same for other dairy products, like coffee creamer, cottage cheese and ice cream.
We checked, and a gallon of two-percent milk recently purchased from Giant came from Marva Maid Landover, a Maryland dairy processor. That means our milk is local, but that might not always be the case if recent trends continue.
According to the Maryland Department of Agriculture, the number of Maryland dairy farms has declined from 1,400 in 1989 to 417 in 2017. And, the U.S. Department of Agriculture says that Maryland had about 48,000 dairy cows in 2016. The number of dairy cows has been declining about 1,000 head a year since 2007.
Maryland dairy farmers are faced with historically low milk prices and the abundance of dairy products globally. In general, this means that most dairy farmers are not making enough money to cover their costs.
We can do our part to support Maryland's dairy farmers. Buy an extra gallon to use or donate to a food pantry. Or, go straight to the source: Purchase milk and other dairy products directly from a local dairy farm — some will even deliver. Search for dairy products at a farmer's market.
Don't forget to get to grab some locally made ice cream to treat yourself for buying local!
Hungry for more? Sign up for our newsletter and find us on Facebook, Twitter and Instagram.