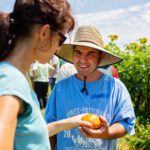 Twenty-seven years ago, with zero agriculture experience and just $10,000 in seed funding, Woody Woodroof embarked on a project that would dramatically change the lives of thousands of people in Maryland through care farming.
In 1996, Woodroof established Red Wiggler Community Farm, a non-profit care farm, as an answer to the injustices he saw among people with intellectual and developmental disabilities (IDD).
"I noticed that a lot of the food being served at group homes for people with intellectual and developmental disabilities was boxed, canned, sugary and salty. I believed that having access to fresh vegetables would be a good thing, and I wanted to create an inclusive environment where people could feel pride in their work," Woodroof says.
Woodroof cited the Agricultural Reserve program in Montgomery County as a major reason for his ability to establish such a unique operation in Maryland. Seen as a cutting-edge program when launched in 1980, the Agricultural Reserve earmarked 93,000 acres of Maryland land to be used for ag preservation. "It's a really unique area because we're so close to two densely populated cities (Washington D.C. and Baltimore), but we have so much ag land in production," Woodroof continues. "Maryland has the infrastructure to support farms. We may be very urban in many ways, but there's a vibrant rural community that's producing a lot of food."
So, Woodroof raised the money, found some volunteers to help him learn to farm, and partnered with Arc of Montgomery County to get Red Wiggler Community Farm up and running in Germantown. The vision for Red Wiggler has always been to create fertile ground to nourish a healthy and inclusive community, and that's guided Woodroof and his team for nearly three decades.
Today, he employs 14 full-time adults with intellectual and developmental disabilities and six full-time salaried staff, and about 500 volunteers come through their doors annually. Woodroof notes that doing things independently is very important for people with disabilities, and giving back to the community is a real source of pride for his employees.
"In our state, students must volunteer at a nonprofit in order to graduate high school. A lot of times these young people will come to Red Wiggler thinking they'll teach someone how to do something. What they find is that the employees out here know what they're doing, and very often it's the person with the disability teaching the student how to do something: hoe, harvest, sort. That's a really unique aspect of coming out to our farm to volunteer or work," says Woodroof.
Red Wiggler is committed to supporting the community through food — in big and small ways. The farm runs a "50/50 Program": 50% of what is grown is sold through a CSA, and 50% is donated to local food banks and non-profits. The farm harvests 40 different crops, herbs and flowers, including some fan favorites like kale, radishes, beets, green beans, summer squash, peppers, eggplants, tomatoes, garlic, and potatoes.
"But we're not just dumping food on the food bank. We've learned what clients want," Woodroof says. The area has a high immigrant population, and the team made it a point to learn what foods people in the community wanted to cook from back home that they could not find in a typical American grocery store. For instance, community members requested sweet potato greens, something that the Red Wiggler farmers had been mowing off. "By connecting with the community, we found another crop!" Woodroof says.
He's also worked with his team to establish the Care Farming Network. Through a $250,000 grant from the USDA, the team at Red Wiggler spearheaded the growth of a network of farms across the East Coast trying to connect their communities to local, nutrient-dense food in an inclusive way. In just one year, the network grew from 75 to 230 farms. "Farming can be an isolated thing. It's great to start a community around it," Woodroof continues.
Reflecting back on what Red Wiggler has accomplished in under three decades, Woodroof is proud to say that the farm has hit its sweet spot in terms of capacity, and he's thrilled to be working with farms in other states to help them contribute to their communities. "All of this has been a life changing experience," concludes Woodroof.
Hungry for more? Read about the benefits of care farming. View a video about the next generation of care farmers