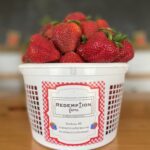 In the midst of the COVID-19 pandemic in 2020, the furthest thing from Wayne Cawley's mind was purchasing a farm. But God had other plans. "While having a rough day at work and then being stranded in my car, I was at my wit's end and ready to have a fit when I stopped myself and said a quick prayer," Wayne says. "Then, I opened up Instagram expecting to see a Bible verse or inspirational quote, but instead the first thing I saw was a listing for a small farm that I was very familiar with."
From there, Wayne's mind was instantly filled with ideas. "I immediately thought of turning it into an agritourism farm with two farm markets, one on each side of the highway," he says of the land in Denton, Maryland. "My wife, Kirsten, and I made an offer and, long story short, we closed the deal in September of 2020." The Cawleys purchased a farm that included an existing apple orchard that had been abandoned.
The Cawley's farm is named Redemption Farm — a perfect fit as it was a second chance for the property and the orchard. The farm consists of 38 acres in Denton with an additional 20-acre peach orchard leased in Delaware, as well as some leased grain fields. However, Wayne isn't a newcomer to farming. "As long as I can remember I wanted to be a farmer. I grew up working on my family's farm but neither of my parents farmed. I worked full-time farming with my uncle for several years until he exited farming in 2010. From there, I worked in multiple areas, but mostly worked in the field as an applicator for two different agricultural suppliers, and managed produce for another farmer," he says.
Part of Wayne's dream of adding agritourism is the farm's pick-your-own, or U-pick, strawberries. "I had grown strawberries for another farmer for several years prior to starting our farm. I honestly didn't enjoy growing strawberries as they're a lot of work, but they are a customer favorite. Strawberries allow us to get our season started early before most other crops are harvested. They are a good fit for our small acreage and provide us with early season cash flow," Wayne says. "In addition, they are a wonderful draw to bring customers into our farmers market and establish relationships that last throughout the rest of the season."
Wayne wanted to plant strawberries as soon as he purchased the farm, but the closing date put him too far behind schedule for the first season. "I planted strawberries in the fall of 2021 and had the first crop open for U-pick in the spring of 2022," Wayne says. He is currently growing three varieties of strawberries, which are Chandler, Ruby June and Camino Real. "I select all of our varieties for multiple traits, but place flavor above the rest. With that said, 50% of the plants are Ruby June which generally yields less than other varieties but is one of the best-tasting varieties. I grow Chandler for its ease of picking in the U-pick field and Camino Real for its extended harvest season."
Strawberry season is highly dependent on the weather. In this part of the Eastern Shore, it typically begins the last week of April and goes throughout May with mid-May typically being the peak of harvest. And, the season can often go until the middle of June if the area has had mild temperatures.
Along with the fun of picking your own fruits, Wayne says the taste amazes their guests the most. "It's virtually impossible to get the same taste of a strawberry or peach from a store. When you buy or pick local, you eliminate several days of shipping and holding, focusing less on shelf life and more on flavor. In addition, our guests are keeping their dollars within their community."
This season, Wayne is also planting blueberries, blackberries, raspberries, cherries and peaches to expand Redemption Farms' U-pick offering and further fulfill his dream of creating an agritourism destination.
Hungry for more? Read about an apple orchard that offers pick your own. Find other pick your own farms in Maryland.
Sign up for our newsletter and find us on Facebook, Twitter and Instagram.