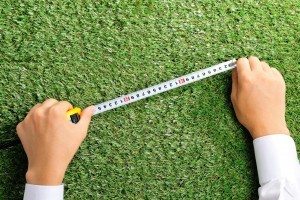 (POOLESVILLE, MARYLAND) – Farmers are having a moment right now. It seems like everyone is in love with the romance of farming and the seemingly simple life it promises. Beyond the romantic soft-focus photos you see of neat rows of crops and fiery sunsets, Maryland farmers want you to know there's hard work and a lot of unromantic paperwork involved in their job.
And sometimes, they get frustrated for being blamed for troubles with the Chesapeake when they have done so much to reduce their environmental impact. Did you know that turfgrass – lawn – is Maryland's biggest "crop"?
If you're concerned about the Chesapeake Bay and water quality, here are five things you can do to help farmers and the Bay:
Get a soil test on your lawn or garden. A $10-15 test will let you know if your soil has enough nutrients to support a healthy lawn. Maryland farmers like Eric Spates of Montgomery County take soil tests on their farms so they can plan to properly feed their crops.
Measure your lawn or garden. Your soil test results will come back with recommendations for fertilizer application. In order to apply fertilizer properly, you'll need to know your square footage.
Apply nutrients only as recommended, so that excess nutrients aren't lost into local waterways through leaching or runoff. More nutrients do not equal a greener lawn. In fact, it's just the opposite – too much fertilizer can cause burns and patches in your lawn.
After applying fertilizer or weed control to your lawn, sweep excess off the sidewalk and other impervious surfaces. This reduces the likelihood these substances will run off into our surface waters. Sweep them back onto the lawn or into a bin for future use.
Meet a Maryland farmer. Take a family trip and learn about how each farm is different and how they all work to do the right thing. See http://www.marylandsbest.net to find a farm near you.
Hungry for more? Sign up for our (email/blog) and find us on Facebook, Twitter and Instagram.